– Welcome to the Deal or No Deal Live fansite –
Deal or No Deal Live Casinos
Deal or No Deal Live has been one of the very best live casino games in the history of online gambling. It was designed by Evolution Gaming in close partnership with Endemol Shine, and many label the game as "the first 24-hour online live game show in the world".
This game is based on a popular TV program that has the same name, and it gives punters the chance to try their luck and test it against a mysterious banker. All this leads to the potential of winning some massive prizes. Deal or No Deal has been a game that has featured in multiple popular slots, but now, Evolution Gaming has gone a step forward and offered a live version of the game, hosted by real dealers.
There are several markets where Deal or No Deal has been a big hit, with the US and several European countries leading the pack. When reviewing the game, we were quite surprised by how well the developers behind the scenes captured the format to create an immersive gaming experience.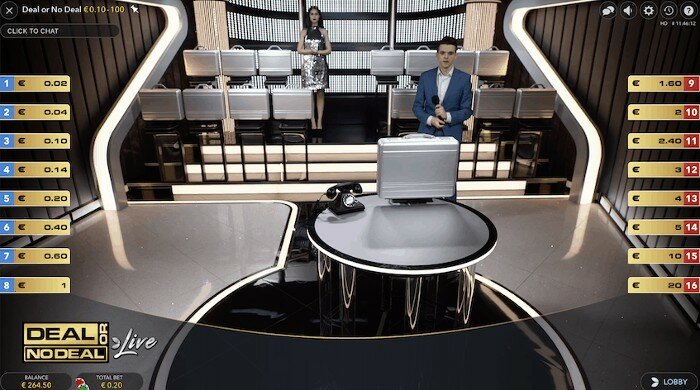 Everything looks similar to the TV show, so if you are familiar with it, you won't have a problem wagering real money in this thrilling live dealer game. Much of the game is played on two wheels, and the outcome is determined by an RNG.
Thanks to the licenses from various reputable regulators such as the MGA, UKGC, and the Alderney Gambling Control Commission, players can expect a completely random and safe gaming experience. Bets in the game start from €0.1 per round, and you will be able to enjoy the game from any device, as you see fit at the moment.
Our review of the game below will provide you with all the necessary details of the features, payouts and gameplay of Deal or No Deal, and there is plenty to cover. Let's dive deeper into the specifics of the game and see why players fall in love with it so easily.
Deal or No Deal Technical Information
Before we dive into the interesting part of the game, you need to know all about the technical details of Deal or No Deal. So, first things first, this is a game that has a very decent RTP of 95.42%, with a 4.58% house edge, which we must say that we like a lot.
As mentioned above, Evolution Gaming has made sure that you won't need much to start playing, as the minimum and maximum bets for the game range between €0.1 and €10 per round. This means that all types of players can have a go at the lucky wheels, with the winning potential being quite handsome as well.
No matter which option for your betting you choose, you are very likely to have much better control over your funds compared to other games, which is very important in today's online gambling world.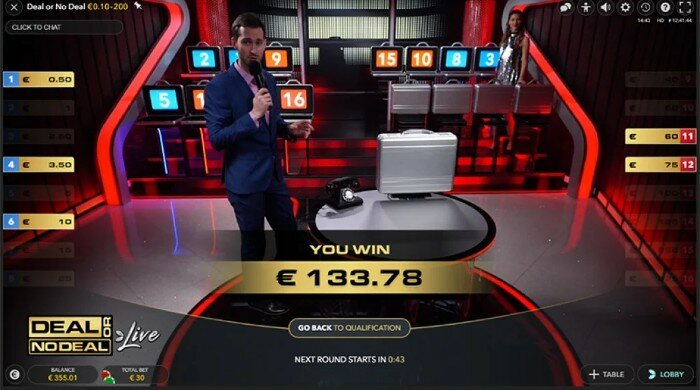 When it comes to the maximum win you can make at Deal or No Deal, it is impressive as it stands at 500x your initial bet. However, this is a very risky game, so the chances of obtaining such a prize are slim at best, so you need to make sure not to wager more than you can afford.
With all that being said, you are also guaranteed a payout if you accept any of the Banker's offers. There are different players that will give you different advice regarding the offers, and there is no universal truth over what you should accept and what not. Some argue that you should not hesitate to accept an offer if it is more than 2x your stake while others will say that this is a high-risk game, but with high rewards, so you should go all the way. At the end of the day, it all depends on you.
Deal or No Deal Rules
Now, let's take a closer look at the fun part of the game. Deal or No Deal plays and feels much like the TV show that almost everyone is familiar with. The first detail here is that you will have a host guiding your gameplay, and once in a while, he will get a call from the Banker, who is a mysterious, behind-the-scenes figure. The banker will offer a certain sum of money that you will either need to accept and quit the game or decline and continue playing.
Before you start playing Deal or No Deal, you will need to jump a few hoops first. If you are a new punter, this might seem a bit odd and confusing, but the details are very simple, so you won't have a problem. The process goes as follows:
Qualification – to complete the qualification round and enter the game, you will need to spin a wheel of fortune and get three of the same segments. This is how you will unlock the next step. Keep in mind that you have a limited time during which you can qualify, but worry not, if you fail, you can start over at any time.
Top up the suitcases – once you hopefully qualify, you will have the chance to add more money to the 16 suitcases. In this round, you can pick any of the suitcases, place a bet, and then spin the wheel to increase the prize amount you play for.
Live game round – so, now that you have completed the previous two steps, you can start the process of opening the suitcases. The Presenter of the game will open three of them, with each containing a number that corresponds to the prize. The prize that you draw will then be removed from the pool.
A call from the Banker – once this is all done, the Banker will call to make his first offer. The next two rounds of the game will see you open four suitcases, and the fourth round comes with three suitcases opened. This is the exact moment the Banker makes his final deal before you open the last two suitcases.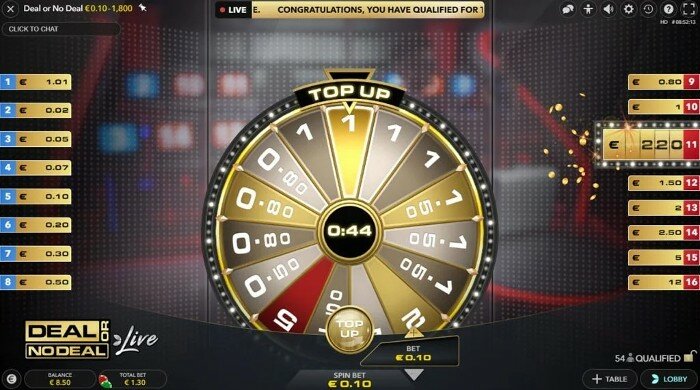 A general rule in Deal or No Deal is that the sooner you open the smaller amounts, the faster the Banker will make significant offers. However, there is always the risk that you hit the big amounts before you get to the smaller ones, and this is actually the thrilling part of the game.
Should you open the big amounts first, the Banker won't be so generous with his offers. All in all, there are 16 briefcases with different prizes that you will need to choose from.
Graphics
Evolution Gaming has made a name for itself by creating world-class games, both in terms of gameplay and graphics. Of course, looks matter, and very often, players are attracted to a certain online casino game based on its graphics.
Deal or No Deal is streamed live in HD video, with the game also featuring a live studio segment and two RNG segments before it. The live studio is filmed with several cameras and multiple angles, so you don't miss a thing during your gameplay. This is a factor that just adds a bit more fun to the overall gaming experience, with players getting the feeling that they are in the studio themselves.
When it comes to the two RNG segments in Deal or No Deal, you can expect the highest possible quality as well. The 3-reel bank vault looks like a world-class slot, with all that being topped up with a very realistic wheel.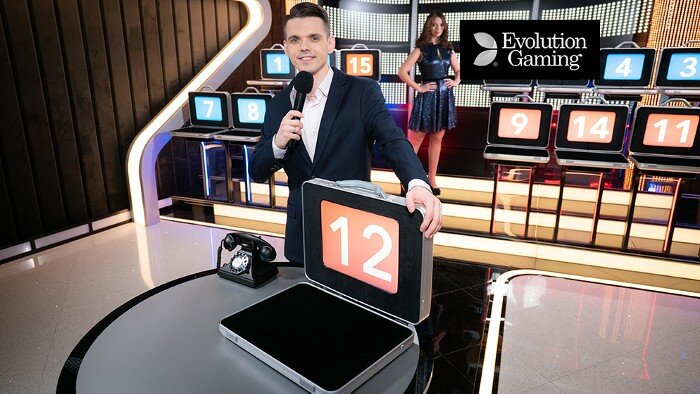 As the game relies on three different segments that work together smoothly, immersive gameplay may seem like a tricky thing to be done, no matter the provider. However, as is often the case, Evolution Gaming has managed this perfectly and has silenced its critics. You will not experience any glitches or bugs when moving from one game segment to another in Deal or No Deal.
Tips, Tricks, and Strategies
As Deal or No Deal is determined by an RNG, it can be considered a game of luck, so there is no way that you can influence the outcome. There is also no winning strategy or a useful trick that will guarantee you wins in the game. The same can be said about the hosts – they cannot have any influence over how the game ends.
However, that doesn't mean that there are not some strategies and tips we can recommend that will help you boost your chances of securing a win. True, a lot of the game will depend on you going with your instinct, but let's see which are some of the strategies you can use to improve your chances of going home with a handsome win.
Don't Forget that Each Spin Costs Money
Even though we have already gone through the rules of Deal or No Deal, it is important for you to remember that each spin to unlock the vault in the qualifying round will cost you money. The bet size you can use here is very straightforward, as it resembles a slot game, with the bet size also determining the payouts of the briefcases. This is a very important aspect for you to remember.
However, unlike slots, you cannot win money in the qualifying round, as you just work on unlocking the vault that will give you access to the main game. Keep in mind that this can take quite a few spins sometimes, so you need to be well-prepared.
You can also choose how hard it is for you to unlock the vault, with the options being:
If you choose Easy or Very Easy, you will see an increase in your bet per spin, without upping your bet size. So, you will be spending more money per spin, with the payouts not being bigger in the main game. It might seem odd, but there is an advantage here – you will need fewer spins to unlock the vault.
Should you decide on the Easy or Very Easy mode, you will need to consider up your bet, so when you do enter the main game, all briefcases are worth more. On the other hand, if you decide to keep your bet size small during the qualifying round, you have the chance to top up your briefcases in the top-up round before the main game begins.
As is always the case, should you increase your bet size in this round, you will have a bigger payout. Given that you are unsure how many spins it will take to unlock the vault, some punters like to invest more in this round rather than the qualifier.
Finally, if you start opening low-value briefcases and you have the big ones remaining, then riding it out may be worth it, as you will have a bigger chance of securing a huge win.
Top-Up 3 to 4 Briefcases
Another piece of advice that we can give is that you top-up 3 or 4 briefcases during the top-up round. If you decide to go for just one, it will be very risky, as if it gets opened before the last round, you will be left with just low-value briefcases.
On the other hand, should you decide to go for three or four, you are entitled to get better offers from the Banker when the vast majority of briefcases are still in the game.
Even Out the Value of Your Briefcases
During the top-up round, you are also best advised to even out the value of your briefcases as much as you can. What you want to do with this is to have the highest possible value on your briefcases. This way, you will receive even better offers from the banker. Moreover, should you be lucky enough to hit the red section on the wheel, even better for you.
There are No Shortcuts in the Game
This is one of the most important rules to remember when playing Deal or No Deal. You need to know that there are no shortcuts in the game and there are no guarantees that you will come away with a big win. If you want to have a chance of winning the best prizes, you need to be ready to bet in continuity when topping up the briefcases. The chance of hitting an instant win here is slim, to say the least.

There is Only One Guaranteed Payout
You can be certain of one thing in this game – only the Banker can guarantee you a payout. He will always come up with an offer as you progress in the game, and it is totally up to you whether you accept or not. Remember that there is always a good chance that you will lose it all if you don't accept the offer and you will walk away with nothing.
Note How Much You Have Spent
This is something that you need to do right from the start of the qualification round. You need to know how much you bet during the Qualification and the Top-Up round. This way, you will decide better whether you should accept the Banker's offer or not. Sometimes, as much as you want to win big prizes, it will be better to just cut your losses and accept the offer.
Don't Get Greedy
We already mentioned above that different people will give you different advice on what is an acceptable offer by the banker. High-rollers will tell you that you should go all the way, and as long as the big-money briefcases are still active, you should pursue the big wins.
However, the vast majority of players play the game for fun, and that is why you will come across general advice telling you that if the Banker's offer is 2x of what you have spent so far, then you should consider seriously taking the deal.
Don't Switch Briefcases at the End
You will always be tempted to swap, but at least you will know how much the open briefcase is worth. It is a very risky strategy to swap briefcases at the end, and you can get away with nothing. So, we would advise you not to take the host's briefcase and stick to the one you have already opened.
Create a Budget and Stay Within its Limits
We have saved the most important strategy for the end. This is something that every player active in the online gambling world should do, not just Deal or No Deal punters. It is important that you set a budget before you decide to play this thrilling Evolution Gaming title, and stick with it.
There are serious problems that can occur if you don't have control over how much you spend on the game, and that is surely something that you want to avoid. Gambling addiction is something that shouldn't be taken lightly, so keep that in mind whenever you load Deal or No Deal at any online casino in the world.
Advantages and Disadvantages of Deal or No Deal
Deal or No Deal is an entertaining game, for sure, and there are big prizes waiting to be won. However, no one guarantees that you will come away with big prizes and you are not even sure whether you will qualify every time.
The qualifying round is a bit like a slot machine, and it is best to think about it that way. Having said that, of course, there are several pros and cons that come with playing Deal or No Deal. We always try to give a balanced view in every review we make, and we can safely say that there are way more pros than cons with this thrilling game by Evolution Gaming. Let's take a closer look.
Pros
Deal or No Deal wouldn't be where it is today in terms of popularity if there were not several benefits of playing it, such as:
Fun and entertaining game – there is no doubt about this one, as you are sure to enjoy a thrilling gaming experience whenever you load Deal or No Deal in any online casino powered by Evolution. This is surely one of the most exciting games the provider has ever created. Deal or No Deal will surely have you on the edge of your chair at numerous points throughout the gameplay.
Good control over prizes – even though there are not a lot of aspects you can control in Deal or No Deal, you will have good control over one thing – the amount you stuff into the briefcases after the qualifying round. Players like it when they have control over their gaming activity and this aspect surely helps them with it.
Easy game to understand – simplicity is often the key to success in the online gambling world. Providers need to come up with a way to attract new players and offer them a thrilling gaming experience at the same time. No one wants a complicated game to start with, and Deal or No Deal is as simple as it gets. All newbies can feel comfortable with the game, knowing that they will tackle the rules in no time.
Impressive live stream – one of the key features that live casino games from reputable providers have is stunning graphics. Evolution streams its games from a live studio with a real host, so you can expect stunning graphics to accompany you during your gameplay.
Available 24/7 – unlike the TV show, Deal or No Deal is available for you to play at any time. So, even if you wake up in the middle of the night, you are sure to have a way to make your time pass, as you will just need to log in to your online casino and load the game, it is as simple as that.
Great winning potential – Deal or No Deal offers an impressive top prize that stands at 500x your stake. This means that if you are lucky enough, you can win a prize that can be life-changing.
Cons
Well, not everything about Deal or No Deal is so impressive, as there are certain aspects that come as minor disadvantages. However, by reviewing the negative aspects, we can safely conclude that they are not so serious that players will consider quitting the game.
The game is less social – the host here needs to put their focus on running the game, which means that there is not plenty of time for interaction and chatting. This is one of the main advantages of live casino games, and it is a common feature among card and table games, but not with Deal or No Deal.
House edge – some players will say that slots are a much better option than Deal or No Deal, as the latter has an RTP of 95.42%, which is lower than the average among slots. Certain slots may offer better chances of payouts, but there is no way they can match the thrilling gaming experience Deal or no Deal provides.
So, by looking at the pros and cons of Deal or No Deal, we can say that the game is ideal for players who like tons of entertainment while they gamble. This is a three-stage game with a lot of fun and a rollercoaster-like gaming experience.
If you are a player that likes a slower and more steady gaming experience, then Deal or No Deal is not for you. However, if you are looking for a thrilling way to pass your time, all with the chance to win some big prizes, then the solution is very simple – register or sign in at an Evolution-powered online casino and start playing Deal or No Deal.
Deal or No Deal Mobile Experience
Some estimates say that, at this moment, there are more than 5 billion unique mobile users across the globe, which would mean that mobile devices are rapidly replacing personal computers. It seems that it is only a matter of time before people will completely switch to mobile phones and not use any laptops and computers for their daily activities.
The advancements in technology have influenced several sectors in the world, with online gambling being no different. Nowadays, we see an increase in the number of players enjoying their favourite casino games from their mobile devices.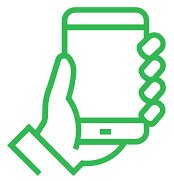 Therefore, it is only logical that reputable game providers would optimize all their games for mobile devices, and Evolution Gaming is surely one of those providers. As you would expect, the thrilling Deal or No Deal live game is completely optimized to be played from any mobile device with any operative system.
You don't need to be stuck at home and on your desktop computer to have a go at Deal or No deal. All that you would need to start playing is to have a stable internet connection and nothing more.
There is no need of downloading any additional software to start playing Deal or No Deal as the game is fully compatible with mobile browsers. You just need to sign in at your online casino from your mobile browser, search for Deal or No Deal and you are ready to go.
The number of users that play Deal or No Deal from a mobile device grows with each passing day, and we can fully expect that number to be even higher in the coming years.
Depositing and Withdrawing at Deal or No Deal
To start playing Deal or No Deal at any online casino, you will need to top up your account first. This is especially important for newly registered players, as you won't be able to start playing any game at the site before you deposit funds into your account.
Being able to safely and quickly deposit money is of the utmost importance to any online casino, and it is one of the most important pillars of its success. Reliable online casinos have a variety of payment methods that you can choose to make your first deposit.
You need to choose the one that matches your taste the most, so let's take a look at how the process of depositing and withdrawing for Deal or No Deal goes exactly.
Deposits
All online casinos that partner with Evolution are completely safe for transactions, as the provider only makes sure to partner with the most reliable ones in the market. Depositing money into your casino account can be a different process, depending on the payment method you have chosen, but the general steps are always the same.
With that being said, you can use the following payment methods to make a deposit at any casino to start playing Deal or No Deal:
Bank Transfers
Credit/Debit Cards
E-Wallets
Online Payment Systems
Once you complete the registration process, you will instantly need to make a deposit to start playing games for real money. Keep in mind that different sites have different minimum deposit amounts, so that is something to look closely at in the general terms and conditions of the casino.
The vast majority of sites will ask for a €10 minimum deposit upon registration. Once you register, you will need to head to the "Cashier" section of the site and choose the appropriate payment method. When you choose it, you will need to enter the amount you wish to deposit which has to be the same or higher than the minimum allowed.
Usually, reputable online casinos will offer plenty of options for deposits, but the vast majority of players prefer debit/credit cards or e-Wallets. They are relatively easy to use and they offer safe and fast transactions.
Withdrawals
Now that you have hopefully secured some handsome wins while playing Deal or No Deal, you can think about making a withdrawal. Withdrawing funds from an online casino is a very similar process, no matter the site you are registered on.
However, a couple of things that are surely different with online casinos are the minimum and maximum withdrawals allowed. Different sites have imposed different limits, so make sure to check that also in the general terms and conditions of the site.
So, once you have reached the minimum allowed withdrawal amount and you wish to withdraw funds, you will need to follow the next few steps:
Head to the cashier section and choose the preferred amount to withdraw – once again, remember the limits before you enter any amount
Choose your payment methods – it is very important here to choose the same payment method you have chosen for your deposits.
Wait for the funds to arrive in your account
An important aspect here to note is that the withdrawal time can vary depending on several factors. This is arguably the number one thing that interests players – how long it takes for the money to arrive in their account.
Well, the first aspect here is the online casino in question. Usually, online casinos will have instant processing times for your withdrawal requests, but that may not always be the case. Once again, make sure to check this upon registration on the site.
Next, how long it takes for the money to get into your account depends mainly on the payment method you have chosen. Credit/debit cards are mostly used by players for deposits and withdrawals, and if you choose it as a payment method, you can expect the money to arrive in your account in no more than 5 business days.
When it comes to e-Wallets, part of why they are so successful and popular among players is that they offer fast withdrawals. PayPal, Skrill and Neteller are the most popular e-Wallets, and they offer almost instant withdrawals.
One last thing to note with withdrawals at online casinos is that the site may ask for additional verification documents when you make certain withdrawal requests. This will almost surely be asked of you should you win big prizes in Deal or No Deal.
It is done for the online casino to protect itself from any fraud, so you may be asked to send a selfie with your ID document in your hand, after which your withdrawal request for winnings at Deal or No Deal will be processed.
For this reason, you may see a delay in the amount of time needed for the money to arrive in your account, but should you provide the necessary information instantly, you can expect the team behind the scenes at the online casino to be fast with your withdrawal request.
Hopefully, you win big prizes with Deal or No Deal and if that is the case, you have all the necessary information regarding withdrawals.
Other Evolution Gaming Live Games
Evolution Gaming is one of the most reputable game providers in the world and it has made a name for itself with some stunning live games. Deal or No Deal is a thrilling game for sure, but if you ever want a change in scenario, you can take a look at some other exciting live games by the same provider:
Crazy Time – one of the most interesting games by Evolution, with the top prize being €500,000.
Monopoly Live – a sequel to Dream Catcher that was introduced in 2019, with some stunning bonus features and impressive graphics
Lightning Roulette – a very simple live roulette version that allows players to win anywhere between 50x and 500x their stake
You are spoilt with choice when it comes to live games from Evolution Gaming, so you will have no problem finding the best one for you. Deal or No Deal is surely one that has to be taken seriously, due to its simplicity and winning potential.
Verdict
Evolution Gaming has been a pioneer in the live casino world, leading the way for creating various live games that are instant hits among players. Many say that Deal or No Deal is the jewel in the crown for Evolution Gaming, and it is hard to argue against that.
The game has become a global phenomenon ever since its release. It is available and popular in different countries in Europe, Asia, South America, the Middle East, etc.
Deal or No Deal is based on the TV show with the same name, and there are tons of similarities between the both. One thing that is different is the qualifying round, but you will have no problem understating how it works exactly.
Sometimes getting past the qualifying round can take a few spins, and it may be a bit nerve-wracking, but that is the beauty of live casino games. Of course, Deal or No Deal is hosted by a real person who will be well-trained and professional with a buzzing personality.
There is no winning strategy that will guarantee wins in Deal or No Deal, but if you are looking for a thrilling live game with amazing graphics and enormous winning potential, then look no further than Deal or No Deal by Evolution Gaming.
FAQ
How can I play Deal or No Deal for real money?
To start playing this thrilling title by Evolution Gaming, you will first need to register at an online casino that partners with the provider. Then, you can deposit funds into your account, search for Deal or No Deal in the game library and begin your adventure.
Can I play Deal or No Deal on my mobile phone?
Of course, Deal or No Deal is optimized for all devices, including mobile phones. No download is needed, so you can start playing the game through your mobile browser.
What is the RTP of Deal or No Deal?
The RTP of Deal or No Deal is 95.42%, with the hit rate being 4.58%, which is quite good.
What are the rounds in Deal or No Deal?
The first round in the game is the Qualification round that you need to pass for the main game to start. Once you go through it, you will need to top up the suitcases, and after that, you can start opening them. Once you start playing, expect a call from the Banker with a handsome offer.
Which offer from the Banker should I accept?
Well, there is no universal rule here, as different players have different preferences and expectations from Deal or No Deal. However, if you are a casual gamer and the Banker offers you 2x your stakes, then you should consider accepting it.